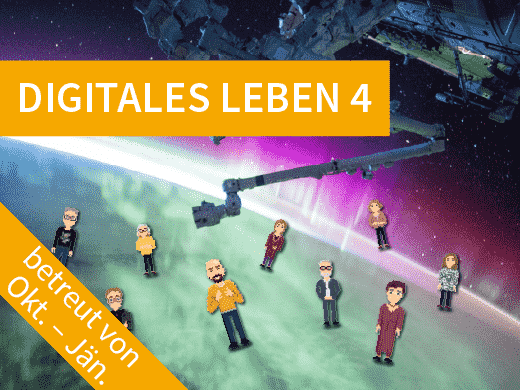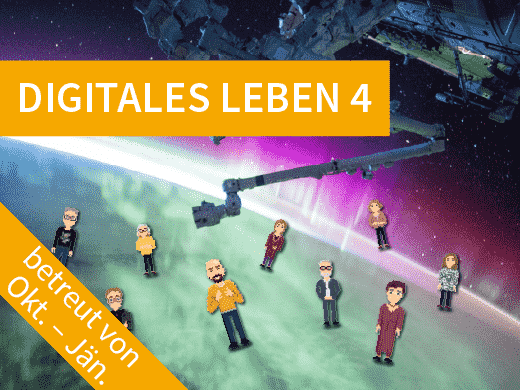 DE
Upcoming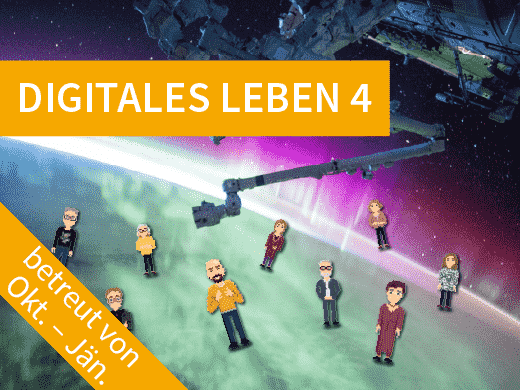 Digital Life 4
University of Vienna
Univ.-Prof. Dr. Fares Kayali
About
Start Date
9 October 2023
Trailer for
Digital Life 4
Content
Course Content
We are all part of an increasingly connected world – a world full of digital opportunities and challenges. The digital transformation is massively reshaping our everyday lives – yet who takes responsibility for the decisions that precede these changes? How much accountability lies with each of us? What is the role of institutions, business and politics? The MOOC "Digitales Leben 4" ("Digital Life 4") deals with responsibility and accountability in the context of digitality in a total of 20 learning videos. In 5 course units, 8 lecturers discuss the complex field of personal autonomy and governance from technical, social, pedagogical and humanities perspectives to help you broaden your knowledge.
The topics of the 5 course units are:
Digital equal opportunities and gender inequalities

Digital care technologies and their design challenges

Information quality, media literacy and requirements for political education

Open data and open science as a response to big data and AI

Digital humanities: New directions in the study of history
"Digitales Leben 4", "Digitales Leben 3", "Digitales Leben 2" and "Digitales Leben 1" form a MOOC series on various relevant aspects of the digital revolution and the related transformation processes. The numbers are not meant to indicate an order – as a learner, you can work on any of the "Digitales Leben" MOOCs first. We hope to continue this series in the future!
Course Goals
After completing this MOOC, you will be familiar with key terms in connection with the digital transformation, the application of technologies, responsibility and accountability. You will develop your own points of view based on the speakers' selected key points. The lectures will enable you to assess the risks and potentials of digital transformation processes, take a constructive and critical stance on digital change, and see yourself as an active part of the digital revolution.
Previous Knowledge
We welcome participants' initiative as well as their independent and interest-driven acquisition of knowledge. The course language is German. English language skills are required for some of the written sources (though reading them is optional). The videos in course units 3 and 6 are in English but have German subtitles and transcripts.
Course Procedure
The MOOC consists of an introduction, and 5 course units comprising 4 learning videos each. Once you are actively enrolled in the MOOC, all units are available to you and you can work through them in any order you choose. Additional information and interactive elements such as reflection questions and prompts accompany the videos. To develop your own positions, we encourage you to use the forum – we will guide you with discussion prompts for each of the course units. For self-assessment (and for the iMooX certificate), there is a quiz with five questions per unit.
Titles and lecturers of each course unit
Certificate
Upon course completion, an automated certificate of participation will be provided, stating your username, the course name, the course duration and the amount of work involved. We would like to point out that this certificate will simply confirm that you have correctly answered at least 75 % of the self-assessment questions.
Course Instructor
Univ.-Prof. Dr. Fares Kayali
Prof. Kayali has many years of experience in the interdisciplinary field of computer science, society, and didactics. Among other things, his Digital Education and Learning Group at the Centre for Teacher Education, University of Vienna, runs the Computational Empowerment Lab. His research interests include user-centered design, critical aspects of the digital transformation, and digital as well as serious games. The MOOC series "Digitales Leben" ("Digital Life") is part of his lecture "Digitale Transformationen" at the University of Vienna.
Lecturers
Univ.-Prof. Dr. Tara L. Andrews
Digital Humanities
University of Vienna

Univ.-Prof. Dr. Geraldine Fitzpatrick, PhD
Human-Computer Interaction Group
TU Wien
Univ.-Prof. Dr. Sabine T. Köszegi
Labor Science and Organization, TU Wien
Initiative Digitalisierung Chancengerecht (Vienna)
Univ.-Prof. Dr. Dirk Lange
Didactics of Civic and Citizenship Education
University of Vienna

Mag. Dr. Katja Mayer
Science and Technology Studies
University of Vienna

Mag. Doris Schmidauer
Business Consulting
Initiative Digitalisierung Chancengerecht (Vienna)

Johanna Taufner, MA MSc
Didactics of Civic and Citizenship Education
University of Vienna

Dr. Beate Winkler
Business Consulting
Initiative Digitalisierung Chancengerecht (Vienna)

Log in The course starts on 9 October 2023. Currently: 51 Participants
Free for all € 0.00
Partners
University of Vienna
Wien
12022 Participants
18 Courses
Average rating