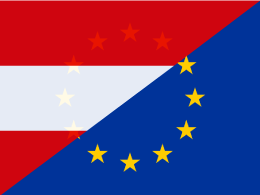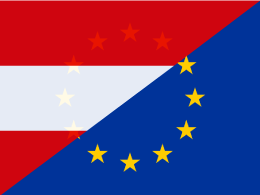 DE
Self-study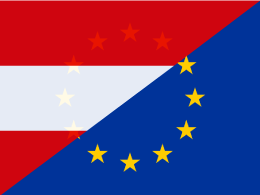 Österreich und die Europäische Union
University of Graz
Anita Ziegerhofer
Trailer for
Österreich und die Europäische Union
Content
Course Content
Ziel dieses E-Learning Angebotes ist es, den Teilnehmerinnen und Teilnehmern, zum einen die Europäischen Union mit ihren Zielen, Leitlinien, Organen, ihrer Geschichte und ihren zahlreichen Errungenschaften, und zum anderen Österreichs Beziehung zur EU, mit den aus der Mitgliedschaft verbundenen Auswirkungen, Änderungen und Vorteilen näher zu bringen.
Course Goals
Die Teilnehmer/innen:
setzen sich fundiert mit der Geschichte, den Organen, den Zielen und Funktionsweisen der Europäischen Union auseinander,
sind sich der Verdienste der Europäischen Union für Frieden, Wohlstand und Entwicklung Europas bewusst,
haben anhand von theoretischen Inputs (Zahlen, Daten und Fakten) und konkreten Beispielen (Firmen, Produktinnovationen, Wissenschaftskooperationen, Kulturprojekten) einen Eindruck vom Nutzen Österreichs von der EU-Mitgliedschaft.
Previous Knowledge
Für die Teilnahme am Kurs sind keine spezifischen Vorkenntnisse erforderlich.
Course Procedure
Der Kurs gliedert sich in acht jeweils einwöchige Einheiten. Jede Kurseinheit umfasst zumindest zwei Vorträge in Form von Video-Lectures sowie weiterführende Lernressourcen (u.a. Videos, Dokumente, Links), die eine inhaltliche Vertiefung in die acht Themengebiete bieten. Zusätzlich wird pro Kurseinheit ein Quiz angeboten, das von den Teilnehmenden absolviert werden kann, um ihren individuellen Lernfortschritt zu überprüfen.
Certificate
For actively participating in the course you will receive an automatic confirmation of participation (certificate) which includes your username, the course title, course duration as well as the hours required to complete the course. We want to point out that this certificate merely confirms that the user answered at least 75% of the self-assessment questions correctly.
Course Instructor

Anita Ziegerhofer
Ao. Univ.-Prof. Mag. Dr. Anita Ziegerhofer ist außerordentliche Universitätsprofessorin und stellvertretende Vorständin des Instituts für Österreichische Rechtsgeschichte und Europäische Rechtsentwicklung an der Universität Graz. Dr. Ziegerhofer ist Mitglied in zahlreichen wissenschaftlichen universitären und außeruniversitären Kommissionen und Gremien u.a. Mitglied der Kommission für Österreichische Rechtsgeschichte an der Akademie der Wissenschaften, Wissenschaftliche Beirätin der European Society Coudenhove-Kalergi.
Forschungsschwerpunkte: Europäische Integrationsrechtsgeschichte, Europäische Verfassungsrechtsentwicklung, Geschlechterforschung.
Veröffentlichungen im Bereich "EU": Europäische Integrationsgeschichte. Unter besonderer Berücksichtigung der österreichischen Integration, Studienverlag Innsbruck 2012, 3. Auflage; Botschafter Europas. Richard Nikolaus Coudenhove-Kalergi und die Paneuropa-Bewegung in den zwanziger und dreißiger Jahre, Böhlau Wien 2004; Die "Vereinigten Staaten von Europa". Dokumente eines Werdens, Verlag Österreich, Wien 1999.
Log in Currently: 378 Participants
Free for all € 0.00
Partners
8768 Participants
18 Courses
Average rating

Fellowships