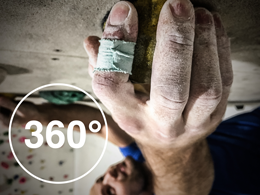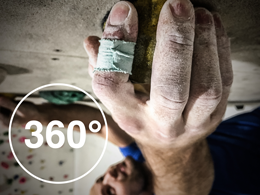 DE
Self-study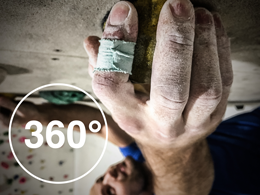 Klettern mit 360° Videos
Graz University of Technology
Michael Gänsluckner
Trailer for
Klettern mit 360° Videos
Content
Course Content
Dieser Kurs bietet einen Einstieg zu Bouldern bzw. Sportklettern in der Halle. Beginnend mit theoretischen Grundlagen in den ersten Einheiten, werden weiters Techniken erklärt und erarbeitet welche dann an der Kletterwand umgesetzt werden können. Neben Materialkunde wird der Schwerpunkt des Kurses auch auf der Sicherheit liegen.
Dieser Kurs kann ausschließlich online belegt werden, wobei hier beachtet werden muss, dass die Videos keine Ausbildung zum Seilklettern sind. Eine praktischer Kurs ist zum Erlernen der Sicherungstechniken und des Umganges mit Sicherungsgeräten sehr wichtig. Die Abhaltung dieses Kurses erfolgt im Rahmen einer Abschlussarbeit bei der vorgesehen ist mit einer kleine Gruppe an Teilnehmerinnen und Teilnehmern diesen Kurs mit praktischen Anteilen zu kombinieren.
Course Goals
Wissen über Bouldern, Klettern
Benötigtes Material und Ausrüstungsgegenstände
Kletter- und Sicherungstechniken
Grundlagen der Sicherheit im Sportklettern
Previous Knowledge
Es sind nur grundlegendste Kenntnisse am Computer bzw. im Internet vorausgesetzt, wie beispielsweise das Abspielen von Videos und das Ausfüllen von Fragebögen. Genaueres zu 360 Grad Videos und Virtual Reality wird in den Videos erklärt. Für den praktischen Teil sind gewisse sportliche Fähigkeiten und Fertigkeiten von Vorteil da Klettern speziell anfangs sehr anstrengend sein kann.
Course Procedure
Die erste Teil jeder Einheit findet online in Form von Lernvideos statt, welche zum Teil als 360° Videos realisiert sind. Als besonderes Erlebnis können diese Videos mit einer Virtual Reality Brille angesehen werden, wodurch einzigartige Einblicke in Klettertechniken gegeben werden. Einmal pro Woche findet ein Self-Assessment statt um die Lerninhalte der Videos zu überprüfen. Für die Gruppe die den gesamten Kurs - also mit praktischem Anteil - absolviert, findet einmal wöchentlich die praktische Klettereinheit im CAC Graz statt. Nach der letzten Einheit gibt es noch einen Feedback Bogen in welcher die Videos bzw. der gesamte Kurs evaluiert wird.
Certificate
For actively participating in the course you will receive an automatic confirmation of participation (certificate) which includes your username, the course title, course duration as well as the hours required to complete the course. We want to point out that this certificate merely confirms that the user answered at least 75% of the self-assessment questions correctly.
Licence
This work is licensed under a CC BY 4.0
Course Instructor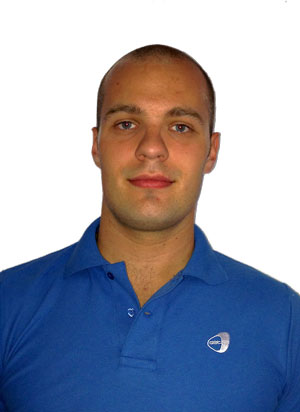 Michael Gänsluckner
Lehramtsstudent an der TU Graz für Informatik und Informationstechnik sowie an der KFU Graz für Bewegung und Sport.
Als Thema für Diplomarbeit wird eine Blended Learning Lehrveranstaltung im Bereichs des Sportkletterns durchgeführt. Die dabei produzierten Videos werden auch nach Ende des Kurses als freie Lernvideos zur Verfügung stehen.
Log in Currently: 258 Participants
Free for all € 0.00
Partners
Graz University of Technology
Graz
16820 Participants
59 Courses
Average rating