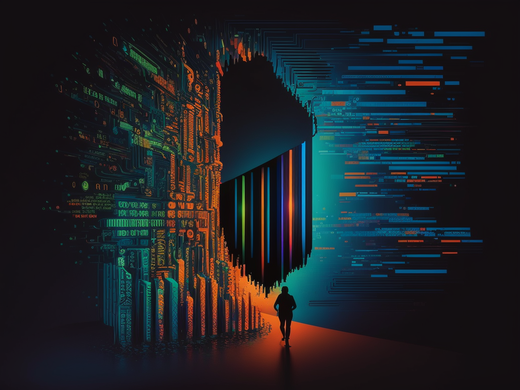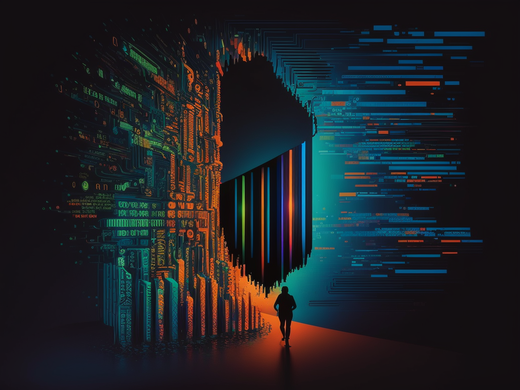 DE
Self-study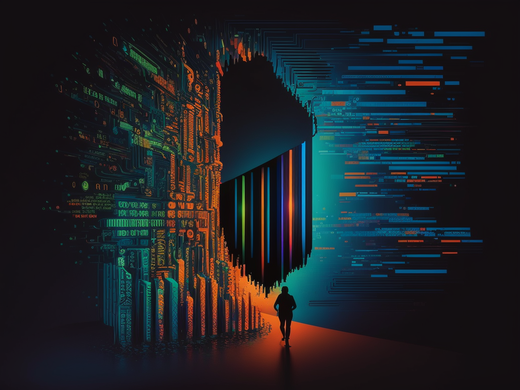 Societech: Society in the Context of Information Technology
Graz University of Technology
TU Graz Educational Technology, students of TU Graz and Michael Lanzinger
Trailer for
Societech: Society in the Context of Information Technology
General Course Information
This MOOC (Massive Open Online Course) focuses on the social impact of information technologies on society. The course content was generated by AI applications. This applies to the images as well as the texts and videos that you will find in the course. We also had the self-assessments and badges generated by an AI application.

With this course, we would like to use a practical example to show what AI systems are currently capable of (as of April 2023), but also where there are still difficulties. You can get an impression for yourself, discover errors or be amazed at how good the applications already are. The course is designed to invite you to critically question AI-generated content and to reflect on the areas in which it can be used in a sensible or supportive way and where it cannot.
Additionally, in each lesson we document exactly how the content was generated, the software and the prompts used. Only in the very first lesson we give a man-made ;) introduction to the topic and a reflection.
Content
Course Content
This online AI-generated course, 'Societech: Society in the Context of Information Technology', provides a comprehensive analysis of the societal impacts of information technology. Participants will learn about eight key areas that offer insight into the role of information technology in areas such as economy, education, privacy, security, ethics, politics, culture, and environment.

Information technology is of central importance to society as it has fundamentally changed the way we work, learn, communicate, and entertain. It has made the world more global, interconnected, and efficient, but it has also brought new challenges that need to be addressed. Therefore, it's more important than ever to develop an understanding of how information technology influences society and how we can shape its impacts.
Course Goals
The learning objective of this course is to provide students with a solid understanding of the societal impacts of information technology. Upon successful completion of the course, students should be able to analyze and assess the impacts of information technology in various areas of society. They should be able to identify and critically discuss the benefits and challenges of information technology.

Furthermore, students should possess the ability to take responsibility for the deployment of information technology and actively shape its impacts upon completing the course. They should also be able to recognize issues related to information technology and develop solutions that meet the interests and needs of society.
Previous Knowledge
No specific prerequisites are required to succeed in this course. The course is designed to be accessible to a broad audience, including participants without prior knowledge in information technology. However, participants should have a basic understanding of technology and its impacts on society.

If participants already have prior knowledge in information technology, their understanding of the course's subjects can be deepened and they can bring their knowledge into the discussions and projects. The course is structured to be suitable for both beginners and advanced participants.
Course Procedure
The course consists of several lessons, each covering a specific area of information technology. Each lesson starts with a KI-generated video that provides a clear and understandable introduction to the topic.

At the end of each lesson, a quiz is offered to test the participants' understanding. The quiz questions are solely multiple-choice and may be based on the video.

Through the course structure with KI-generated videos and quizzes, participants will learn in an interactive and engaging manner. They will be supported in deepening their understanding of information technology and its impact on society and improving their critical thinking and decision-making skills.
Certificate
For actively participating in the course you will receive an automatic certificate which includes your username, the course name as well as the completed lessons. We want to point out that this certificate merely confirms that the user answered at least 75% of the self-assessment questions correctly.
Licence
This work is licensed under
CC BY-SA 4.0
Apart from lesson 1, the content was generated by AIs. Each lesson documents exactly which tools and prompts were used. Deviating licences are also mentioned directly with the content.
How the contents of this start page were created
Sections "General information" as well as "Course leader" and "Licence text" have been written by humans.
The other sections "Course conent", "Previous knowlege", "Learning Goals" and "Course procedure" have been generated with ChatGPT.
Consult the following documents for more details on how the contents were generated:

Course Instructor
TU Graz Educational Technology, students of TU Graz and Michael Lanzinger
This course has been created as part of various bachelor theses. The following students from TU Graz were responsible for the content creation:
Christina Knes is currently studying Software Engineering and Management at TU Graz. For this course, she focused on AI-generated texts, especially the tool ChatGPT.
Tarik Barucija is also currently studying Software Engineering and Management at TU Graz. For this course, he worked with AI-generated images, videos and text-to-speech tools.
Nail Galic is currently studying Informatics at TU Graz. For this course, he worked with AI-generated images, videos and text-to-speech.
Philipp Gritsch is carrying out additional research on this MOOC and will monitor the forum and reply in the forum.
The students were supervised and coached by the following members of TU Graz Educational Technology:
Martin Ebner teaches and researches as a habilitated educational computer scientist on topics related to technology-supported teaching and learning, often referred to as e-learning for short. Here he is particularly concerned with mobile learning, the effects of social media and learning analytics, and is considered a great advocate of Open Educational Resources. In addition to his involvement in national and international committees, he is also very committed to the school and university system in Austria. In line with his motto ("making education accessible"), he is one of the founding fathers of the iMooX platform.
Philipp Leitner heads the Learning Analytics group of the organisational unit Educational Technology at Graz University of Technology. The educational computer scientist's research focuses include technology-supported teaching and learning, learning analytics, data protection and data security, and recommender systems.
Stefan Janisch is a member of the organisational unit Educational Technology and is responsible for everything regarding the production of learning videos. His tasks are planning, recording and post-production of learning videos as well as using new methods and technologies in learning videos. In this MOOC, he coached the students when it came to video production.
Sarah Edelsbrunner is an Instructional Designer in the organisational unit Educational Technology at TU Graz, where she is involved in the creation of Open Educational Resources (OER), the support of the learning management system at TU Graz and the further training of university lecturers in the field of digital education.
Attorney Michael Lanzinger was involved in the project for any legal and licensing questions.
Log in Currently: 743 Participants
Free for all € 0.00
Partners
Graz University of Technology
Graz
18546 Participants
60 Courses
Average rating
Rating