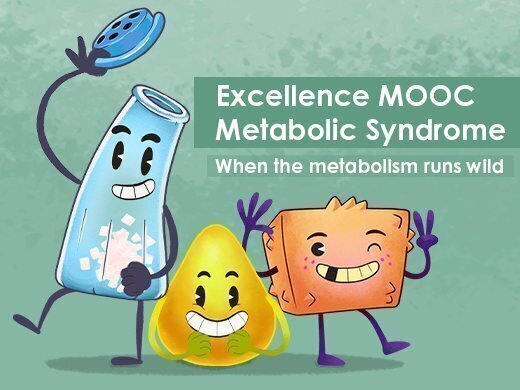 DE, EN, ES
Self-study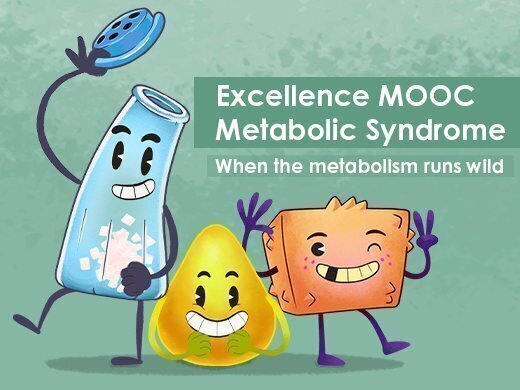 Metabolic syndrome - When the metabolism runs wild
Graz University of Technology
MetSy Team
Trailer for
Metabolic syndrome - When the metabolism runs wild
General Course Information
This MOOC aims to address the underlying causes and consequences of the metabolic syndrome (MetS), a condition that affects over a billion people worldwide (WHO). The MetS is a compilation of risk factors that includes visceral obesity, high blood sugar and triglycerides, low HDL-cholesterol and hypertension. This results in a considerably higher incidence of diseases such as Type 2 Diabetes, liver disease and cardiovascular events. Therefore, there is an urgent need to address this substantial biomedical challenge. This course will deal with diverse aspects related to the MetS resulting from the interdisciplinary background of the involved team members. Therefore, this MOOC course will be integrated into a wide spectrum of university courses: Food and Nutrition Sciences, Biochemistry and Biomedicine, Biomechanics and Tissue Engineering.  
Content
Course Content
Unit 1: Metabolic syndrome: Facts & Features
Definition of the MetS (Syndrome X), the 3 out of 5 criteria that should be met for its diagnosis, associated disease and, affected metabolic tissues. Insulin signalling pathway in different metabolic tissues, insulin resistance, type 1 and 2 diabetes and chronic-low grade inflammation as underlying molecular mechanisms that drive the Metabolic Syndrome.
Unit 2: (Epi-)Genetics vs. Environment
The role of the environment vs. genetics in the course of the development of MetS. Nutrigenetics vs. Nutrigenomics, epigenetics and genomwide association studies (GWAS).

Unit 3: Food Science: The Roles of  Lipids, Sugar & Salt for MetS
Food/nutrition and the MetS. The basic chemistry of sugar and fat. The roles of lipids, sugar and salt in food commodities and food technology. Possible strategies to reduce the consumption of the three components.
Unit 4: Overnutrition: Role of adipose tissue
Adipose tissue localization and types, adipose tissue structure and cellular composition. Additional functions of the adipose tissue besides the classical "storage" function. Adipose tissue expansion. Pathological consequences of the MetS on the adipose tissue: Low grade and chronic inflammation, insulin resistance and role of adipokines. Lipogenesis vs. lipolysis. 
Unit 5: MetS and liver disease
Ectopic fat accumulation: non-alcoholic fatty liver disease. Liver inflammation. Lipoprotein metabolism. Ectopic fat accumulation in other tissues (fat spillover from adipose tissue and liver) will be discussed.
Unit 6: Heart disease - an accumulation of all?
Development of atherosclerosis and connection to diabetes and obesity. Other risk factors of heart disease . "Healthy" microstructural constituents of arterial tissues. Arterial tissue remodelling and the role of sugar leading to advanced glycation end products (AGEs) and the crosslinking of the tissue constituents (collagen and elastin). Biomechanical tests of arterial tissues.
Course Goals
After finishing all chapters, you will have acquired advanced and interdisciplinary knowledge about the occurrence, causes and consequences of the Metabolic Syndrome (MetS). You will be aware of risk factors and potential consequences for the human body and the health. A deeper understanding of the the importance of the MetS for indivuals as well as for the whole society will be gained. The urgent need to take preventive measures to reduce the risk factors will be achieved.
Previous Knowledge
Basic knowledge in biochemistry and food chemistry is beneficial, but you should mainly be interested in gaining deep insight into this important research topic.


Certificate
For actively participating in the course you will receive an automatic certificate which includes your username, the course name as well as the completed lessons. We want to point out that this certificate merely confirms that the user successfully the self-assessment questions of at least 4 out of the 6 units.

Course Instructor
MetSy Team
Melina Amor, PhD
Molecular Biologist
Institute of Material PhysicsGraz University of Technology
Institute of Molecular Biology and Biochemistry
Medical University of Graz
Ariane Pessentheiner, PhD
Biochemist
Institute of Molecular Biosciences (IMB)
University of Graz
Barbara Siegmund, Assoc. Prof.
Food Scientist
Institute of Analytical Chemistry and Food Chemistry
Graz University of Technology

Gerhard Sommer, Assoc. Prof.
Biomechanical Engineer
Institute of Biomechanics
Graz University of Technology
Log in Currently: 734 Participants
Free for all € 0.00
Partners
Faculty of Exact and Natural Sciences, National University of Mar del Plata, Argentina
Higher School of Medicine, National University of Mar del Plata, Argentina
Faculty of Medical Sciences, FASTA University, Argentina
Department of Health and Sports Sciences, National University of José C Paz, Argentina
Higher Institute of Teacher Training No. 84, Argentina
Faculty of Chemistry, Biochemistry and Pharmacy, National University of San Luis, Argentina
Faculty of Health Sciences, National University of San Luis, Argentina
Graz University of Technology
Graz
18604 Participants
60 Courses
Average rating
Rating