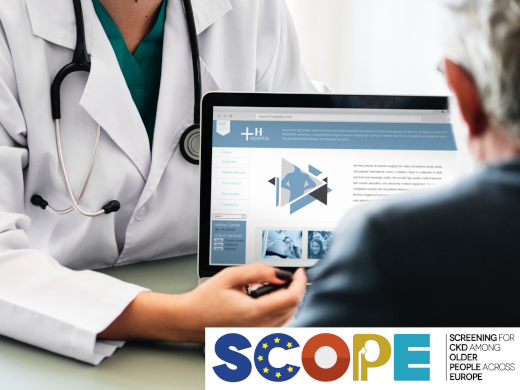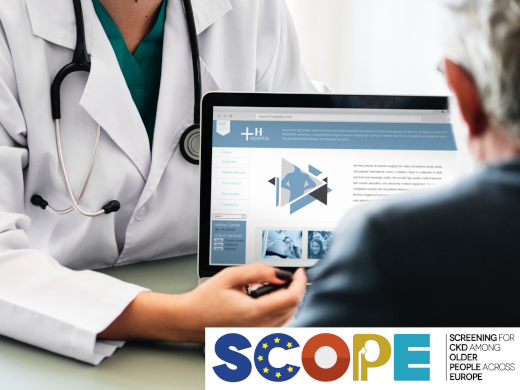 DE, EN, ES, FR, IT, NL, PL, SV, HE
Self-study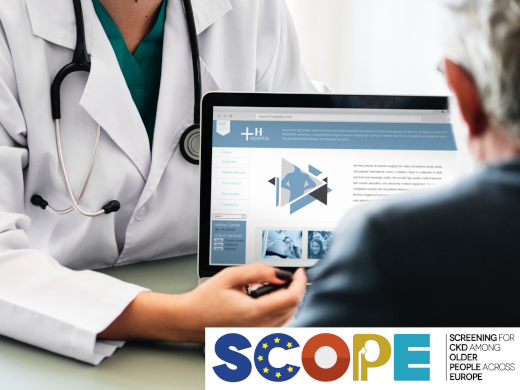 Kidney Disease in Old Age (the SCOPE project)
Medical University of Graz
Prof. Regina Roller-Wirnsberger, MD, MMEProf. Sabine Zitta MD
About
Start Date
1 October 2019
Trailer for
Kidney Disease in Old Age (the SCOPE project)
General Course Information
Chronic kidney disease (CKD) is defined as change of kidney structure of declining function for more than three months with implications for health. CKD is an important public health problem worldwide, especially in older people. Evidence shows that, whereas the disease prevalence ranges between 10.2% and 16.0% in the adult population, this may peak up to over 50% among the 75+ age group. This suggests that future population aging in industrialized countries will be accompanied by an increase in the prevalence of CKD and its complications. In addition, research confirmed that older individuals with CKD might be at higher risk for developing functional limitation and disability, including impaired physical function, frailty, cognitive impairment, vision impairment, malnutrition, and sarcopenia.
This MOOC aims at closing gaps of basic knowledge addressing CKD in old age and its implications for medical management of older patients in general. It will address pathophysiological mechanisms that underlie CKD, will explain diagnostic pathways for kidney function with a focus on older patients and will explain the complex care management in a case-based way.
Content
Course Content
Chronic kidney disease (CKD) is defined as the presence of kidney structure of function abnormalities for more than three months with implications for health, especially with older people. Although CKD prevalence is increasing and the importance of an early diagnosis to prevent complications such as end-stage renal disease (ESRD) is well established, however, the screening programs in Europe are highly heterogeneous, fragmented, being in most cases based on opportunistic rather than structured assessments of patients. The current course aims at bringing together all evidence-based information on CKD in old age, ranging from molecular and pathological underlying mechanisms, pitfalls of diagnostic and clinical management of CKD in old age as well as guideline-based recommendations for daily clinical practice.
Course Goals
Following this course students will:
know the impact of ageing mechanisms on kidney function
know the interaction of multimorbidity and chronic kidney disease (CKD)
know the impact of CKD on individual resilience, cognitive and physical function
be able to nominate laboratory test systems to be used for the accurate determination of kidney function in old age
be able to consider an older person's need with CKD in a holistic and personalized manner
Previous Knowledge
Basic knowledge of anatomy of kidney, bone, muscle structure, physiology of kidney function, endocrine and haemato-poetic system, basic knowledge of laboratory testing of serum and urine samples.
Course Procedure
The course is divided into three different modules. The completion of all modules allow to collect 1,0 European Credit (ECTS). Following registration learners attend three different courses of 10-15 minutes. Additionally, information material is provided together with the videos. It is expected that students undergo a short self-assessment of each sub-topic (course), answering 4 multiple choice questions (MCQs), either Typ-A or Pick-N style. Self-assessment may be repeated up to a maximum of 5 times. In order to receive a participation acknowledgement at least 75% have to be reached at each quiz. Finally, an evaluation of the course is requested from participants for quality assurance of the training course. With provision of the feedback participants agree with an anonymous statistical workup and publication of evaluations.
Certificate
Participation is graduated by a certificate, which includes the name of the participant, the title of the course, the ECTS achieved. The certificate is based on a 75% positive assessment following the course. Accreditation as elective is possible if the course content is accepted by partner universities and the approved by an assessment format accepted by partners locally.
Financed by
This project has received funding from the European Union's Horizon 2020 research and innovation programme under grant agreement No 634869
SCOPE – Screening for Chronic Kidney Disease among Older People across Europe Acknowledgement of support from the EC Grant Agreement n. 634869 (SCOPE)
Flyer
| | | | | | | | | |
| --- | --- | --- | --- | --- | --- | --- | --- | --- |
| | | | | | | | | |
| DE | EN | FR | HE | IT | NL | PL | ES | SV |
Course Instructor
Prof. Regina Roller-Wirnsberger, MD, MMEProf. Sabine Zitta MD
Regina Roller-Wirnsberger was appointed Professor for Geriatric Medicine and Curricular Development in 2011 at Medical University of Graz. Since then she has been involved in several EU- funded international and also national collaborative projects, all of those with a focus on complex care management of geriatric patients.
Sabine Zitta has been working as consultant of nephrology for more than 25 years at Medical University of Graz, Austria. She has a longstanding clinical and research expertise in laboratory testing of kidney function. She has also been actively involved into educational development on undergraduate level and continuous professional training for more than two decades.
The Consortium of the SCOPE project comprises of 9 partners. The logos of the respective participants in the project are outline on this start page of the MOOC. For further information about the distinct partners please visit the homepages of the affiliated universities. For further reading and information about the SCOPE project please visit the web-side of the project (http://www.scopeproject.eu).
Log in Currently: 235 Participants
Free for all € 0.00
Partners
Medical University of Graz
Graz
3669 Participants
6 Courses
Average rating
Fellowships